The Residence at Middle Path aka "The Temple"
Low maintenance, rammed earth construction ensuring building strength increases with age.


No chipboard or other synthetic outgassing materials, constructed with detailed attention to minimising any toxic inclusions.


Faces East north east - positioned to make full use of refreshing and cooling afternoon sea-breezes flowing across water.


Main room is 7 metres tall and integrates easily with the large covered verandah creating a magnificent entertaining space.


Walls have been hand brushed to produce ancient feel and appearance and feature extensive alcoves throughout giving unique character and interest.


Minimal heating and cooling expenses as the thermal mass of the walls stabilises the temperature.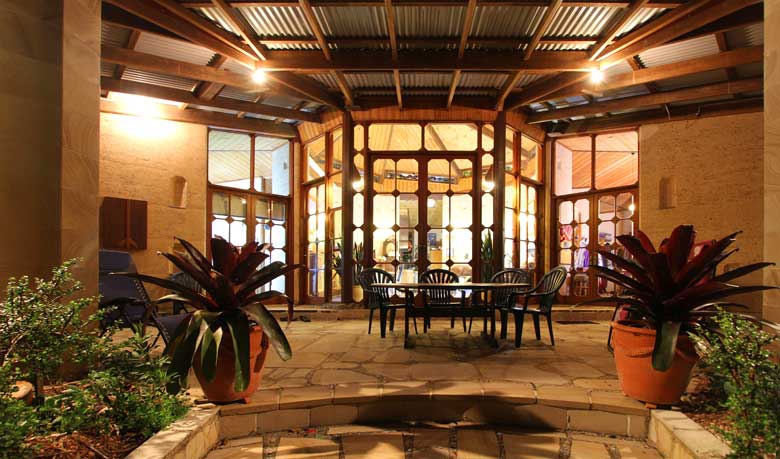 Extremely light in all rooms with floor to ceiling glass doors and windows to ceiling.


3 large bedrooms, main with WIR, 2 with sinks.


Gas appliances in kitchen, heavy-duty industrial insinkerator to efficiently masticate waste for optimal biolytix waste treatment system functioning.


Timber used throughout is New Guineau Rosewood, a durability class 1 (the highest) timber.


Roof timbers locally milled Pink Ironbark - one of Australia's hardest and most durable Eucalypts.


Earthen floors - Sandstone on a concrete subfloor in wet areas.


Wide (200mm) gutters - fully leaf-guarded


2 @ 10,000 gallon concrete water tanks = 90,000 litres rainwater storage


Water view in most rooms (laundry and bathroom excepted).


2400 high french doors connect 2 bedrooms to verandah.


Main room front french doors to verandah are 3000 tall, 2 side doors are 2700 high.


All other doors are 2400 high,


Every room has door to outside.


No wasted space with interior hallways.


Bulk powerpoints and lighting circuits.


2 electricity phases used, all outlets protect by fast-acting earth-return circuit breakers.


Phone outlets in every room (includuing bathroom).


Open 2-way bathroom with 3 shower heads, new German-manufactured high-back cast iron bath.


Second glass-walled luxury bathroom overlooks young rainforested slope and lake with another duet cast-iron bath built for two.


Gas appliances in kitchen, heavy-duty industrial insinkerator to efficiently masticate waste for optimal biolytix waste treatment system functioning.


TV outlets in kitchen, main room, 2 bedrooms.


Solid rosewood kitchen with silky oak and red cedar features. Island bench gas cooktop with super-industrial strength extraction system.


Stained glass cupola with Swarovski faceted Crystal Heart inclusions shedding rainbows throughout the room on sunny days.


The Cupola is filled with light and energy and is a favourite spot for friendly birds when the main doors are left open.

Their visits significantly contribute to our chemical- and toxin-free insect control measures.

The clerestory has recently been double glazed with a rainbow serpent in stained glass.

This has added a new dimension of colour throughout the day, when the sun shines on the glass, the many faceted crystals in the panels cast myriads of spectrums around the room.


A panorama of the rainbow serpent at Middle Path:
The natural sandstone floor is highlighted with semi-precious gemstones, creating a wonderful friendly surface to work on whilst preparing meals and refreshments.


This room is always the favourite at parties and we have had 8 people working side-by-side preparing a party feast without getting in each other's way!


In fact the whole building has aspects of Dr Who's Tardis in terms of comfortably accommodating large numbers of people without any sense of crowding.
| | | |
| --- | --- | --- |
| The main bedroom shares the revitalising stillness apparent throughout the property and is a wonderfully refreshing space to rest and sleep. | | |
The Original Floor plan circa March, 1997